30 September 3 October 2021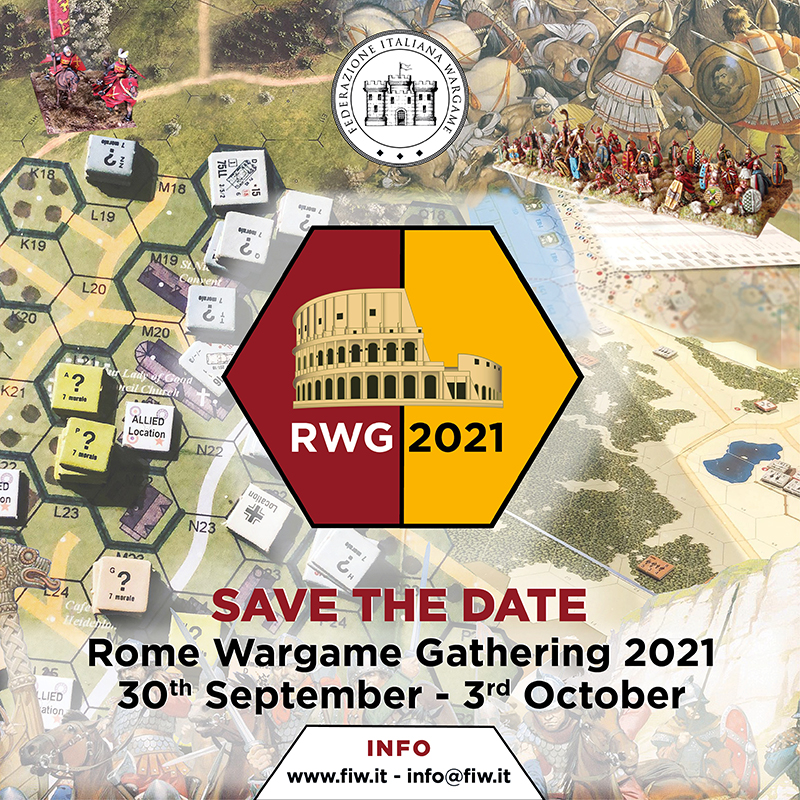 La Federazione Italiana Wargame in collaborazione con MMP Publishing è lieta di presentare il ROME WARGAME GATHERING 2021.
L'edizione di quest'anno sarà particolarmente ricca di eventi, anche nella grande voglia di potersi rivedere e giocare di persona sempre tenendo in considerazione le normative relative al COVID19.
sono previsti: 
torneo del campionato italiano Advanced Squad Leader in collaborazione con MMP e ASLItalia.
torneo del Campionato  Art De La Guerre con la nuova edizione delle Regole.
torneo di Command&Colors
premiazione del FIW AWARD, il premio dedicato ai Wargame inediti nel panorama dei designer italiani
eventi e gioco libero, molto ancora in organizzazione quindi tornate spesso a visitare la pagina per gli aggiornamenti.
Come ogni edizione si sta definendo un pacchetto all-inclusive che preveda il pernottamento,  i pranzi , l'iscrizione ai 4 giorni di convention, premi e sorprese dedicate al nostro mondo.
potete iniziare a pre-iscirivervi in attesa dei dettagli al link qui di seguito.
The Italian Wargame Federation in collaboration with MMP Publishing is pleased to present the ROME WARGAME GATHERING 2021.
This year's edition will be particularly rich in events, also in the great desire to be able to meet and play in person, always keeping in mind the COVID19 regulations.
are planned:
Italian Advanced Squad Leader championship tournament in collaboration with MMP and ASLItalia.
tournament of the Art De La Guerre Championship with the new edition of the Rules.
Command&Colors tournament
FIW AWARD ceremony, the award dedicated to unpublished wargames in the panorama of Italian designers
events and free play, a lot more to organise so come back often to visit the page for updates.
Like every edition we are defining an all-inclusive package that includes accommodation, lunches, registration to the 4-day convention, prizes and surprises dedicated to our world.
you can start to pre-register waiting for the details at the link below